The Destination Colorado booth at IMEX has become a bit of an oasis among the maze of booths at IMEX. With its iconic Glamping theme that juxtaposes luxurious elements with a rustic charm, the space is inviting and functional. Hosting 18 exhibitors who represent the vast range of group options in Colorado from Aspen and Snowmass to Aurora and Colorado Springs and everything in between, the booth is a hub of activity and valuable resources.
The lovely Glamping decor including the wildly popular faux firepit have been a crowd favorite for the past few years. Each year, the booth layout is enhanced. Be sure to check back next year and see what's new!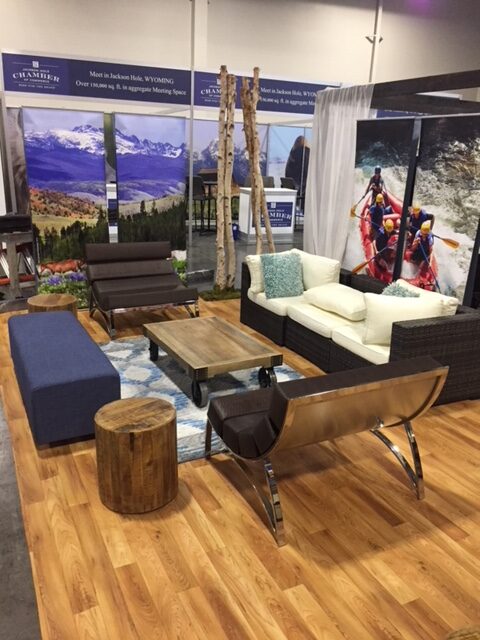 This year's exhibitors offered up a wide range of destinations for corporate groups looking to host a meeting or event in Colorado. The combination of Colorado Convention and Visitor Bureaus and individual lodging partners offered meeting planners a wealth of information about options for group meetings, events and conventions throughout the state of Colorado.
| | |
| --- | --- |
| Aspen CVB | Aspen's rich history and modern-day reputation for world-class arts, culinary offerings, festivals and outdoor recreation are unparalleled. Equally inspiring accommodations offer groups the ultimate Colorado experience. |
| Aspen Snowmass | Centered around the renewal of Mind, Body and Spirit, Aspen is a magical destination no matter the season not just a world-class ski resort. With not-to-be missed on-mountain venues on both Aspen Mountain and Snowmass, this coveted group experience extends year-round. |
| Beaver Run Resort & Conference Center | Nestled at the base of Peak 9 of Breckenridge Ski Resort, Beaver Run Resort & Conference Center is the largest conference center under one roof in Breckenridge, Colorado. Bring your meeting to Breckenridge for a bit of small town charm, world class skiing and large-scale meeting capabilities. |
| Boulder Convention and Visitors Bureau | Conveniently located 45 minutes from Denver International Airport, Boulder is large enough to provide exceptional facilities and a buzzing, urban culture, yet it has an intimate feel with stunning surroundings and a uniquely hip collection of meeting venues. |
| Colorado Springs CVB | Often identified by the grandeur of The Broadmoor Resort, Colorado Springs is home to a much more diverse of group lodging options as well as some of the state's most spectacular scenery. |
| Devil's Thumb Ranch Resort & Spa | This luxurious 6,000 acre escape is all about embracing the best of Colorado's pioneering spirit. Identified by the Condé Nast Traveler's 2018 Reader's Choice Award as among the world's best hotels & resorts, this property lives up to expectations. |
| Estes Park Events Complex | Nestled in the scenic Rocky Mountains, the Town of Estes Park's new event destination offers several year-round venues. The Event Complex is comprised of four unique spaces: the newly-built Event Center, its adjacent indoor / outdoor Pavilion, the 42-acre Fairgrounds, and a full-service Conference Center. |
| Four Seasons Resort Vail  | Featuring stunning views and all of the world-class amenities you would expect of a Four Seasons Resort, this property often partners with nearby Sebastian and Sonnenalp Resort to accommodate large group meetings. This unique partnership brings together some of the best Vail has to offer. |
| Gateway Canyons Resort & Spa | Off-the beaten path, this award-winning resort is worth the drive. Ideally situated to take in the canyon views, the property amenities include everything from the tranquility of its spa and guided nature hikes to the adrenaline of its off-road "Driven" experience. A truly unique destination resort. |
| Manor Vail Lodge | Located at the base of Vail Mountain and along the Gore Creek, this property's on-site meeting center contains 12,000 square feet of flexible meeting space and one of the best value's in Vail. |
| Operation Altitude | Offering full-service destination management, meeting and event planning services throughout the state of Colorado for over twenty years, Operation Altitude offers local insights and logistical expertise for your next Rocky Mountain group experience. |
| The Gant, A Destination Hotel | This inspiring venue excels in flexibile spaces including its well-known roof top.  Uniquely Aspen, the property is well-positioned and makes full use of its Conference Center space. |
| The Westin Snowmass Resort | Adjacent to the Snowmass Conference Center, this property has a wide range of meeting spaces to accommodate a variety of group sizes. The slopeside location and alpine setting are hard to beat. |
| Vail Marriott Mountain Resort | The Vail Marriott Mountain Resort boasts a prime Vail location offering easy access to all the amenities  Vail has to offer. This anchor property also offers groups some of the largest meeting options in the area with over 1,000 square feet of meeting and event space. |
| Viceroy Snowmass | The Viceroy Snowmass is a hidden gem. Nestled slopeside with ski out/ski in access, their 9,000 square feet of meeting and event space takes full advantage of the surrounding views and the property amenities are top of the line. Do not overlook this property for your next group meeting in the Colorado Rockies. |
| Visit Aurora | With the addition of the massive Gaylord Rockies Resort, Aurora is stepping into the spotlight. Unique new off-site venues, craft breweries and chef-inspired restaurants are "taking off" (yes, a pun representing the nearby Denver International Airport and old Stapleton Airport location -had to do it!). |
| Visit Fort Collins | Long known as the home to the Anheuser Busch brewery, Fort Collins offers a great group experience for all sizes whether utilizing the CSU campus for large-scale conferences and events or tapping into the local farm to table experience and craft breweries. |
| Visit Loveland | If you think Loveland Colorado is just small time, think again! With the addition of the nearly 400,000 square foot  Ranch Events Center Complex, group capacity of up to 100,000 can now be accommodated under one roof. |